"PKK, Daesh unite against Turkey, exploit migrants for their activities"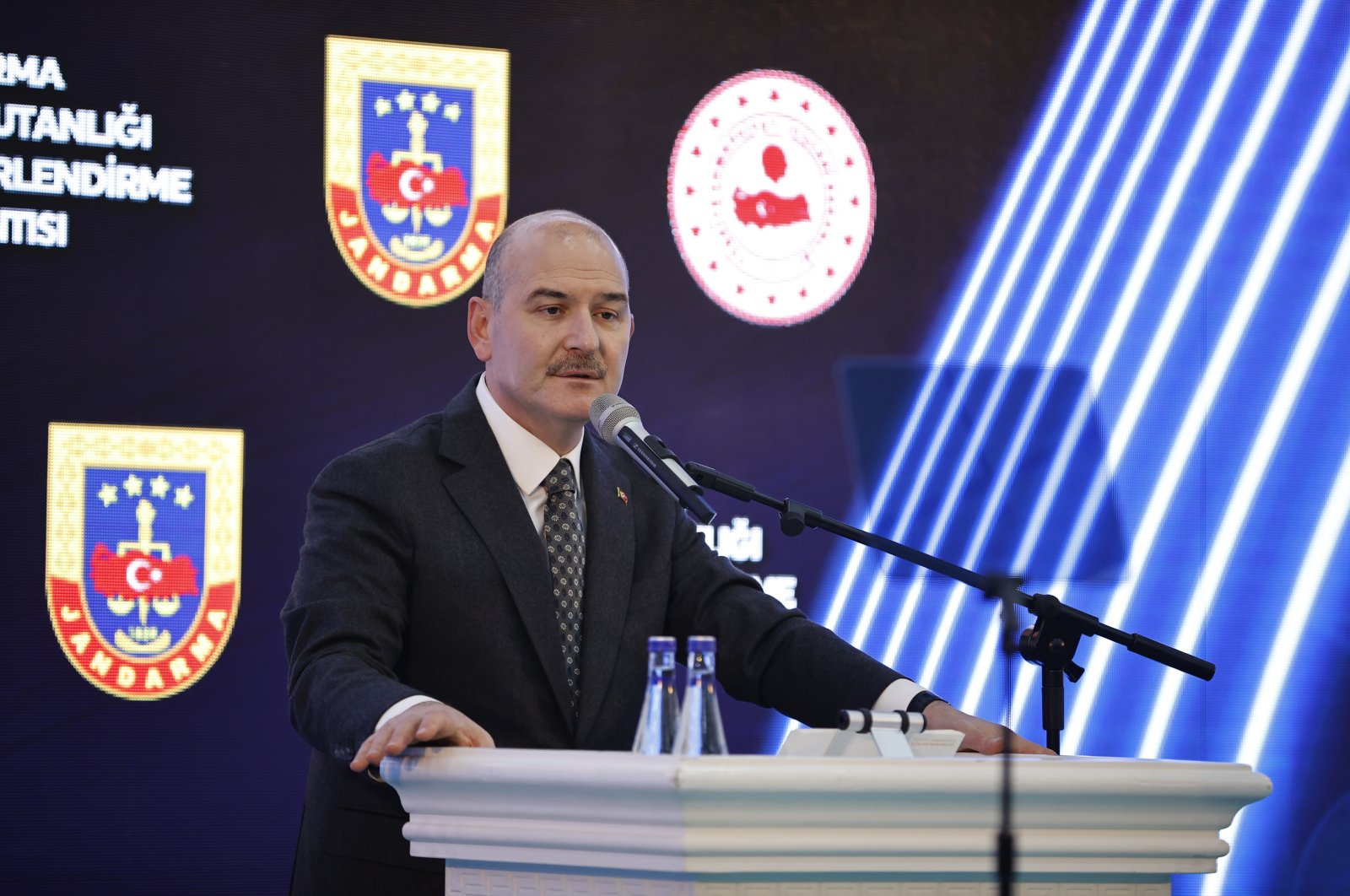 The PKK and Daesh terrorist organizations unite when acting against Turkey and even exploit migrants for their own ends, Interior Minister Süleyman Soylu said on Thursday.
Addressing the heads of Ankara's office in the capital, Soylu pointed out that although terrorist organizations engage in human trafficking and oil trade, Turkey has tightened security at its borders and has not not allowed the passage of terrorist elements or ammunition.
There have been repeated reports of cooperation between the Syrian wing of the PKK, the YPG, and Daesh in Syria, with former Daesh members releasing prisons and endangering the lives of local populations.
"Our capabilities are strong both within our borders and beyond."
Furthermore, the Minister pointed out that some NGOs from Europe and other countries are used as a shield to carry out espionage activities while some members of these NGOs also frequently engage with the PKK in Syria.
Stating that Turkey will not allow these aid activities to be exploited, Soylu stressed that the necessary authorities have been notified.
Those fleeing YPG-controlled areas of Syria go first to Atmeh, then to Idlib and then try to come to Turkey, he said.
"The security zone has started to fulfill the filter function. Consequently, the number of Syrians prevented from entering Turkey illegally through its southern border has been steadily reduced to a third between 2017 and 2021," Soylu said, indicating that migration pressure has decreased.
Meanwhile, 415,000 Syrians were arrested in 2017, 284,000 were arrested in 2018 and 439,000 were arrested in 2020 while 117,000 were arrested in 2021.
He also spoke about the return of Syrians to their homes from Turkey. Soylu also clarified that Turkey is closely monitoring and analyzing the situation of Syrians living in Turkey and their future ambitions. According to the minister, 28% said they would return if the war ended, 13.7% said they would return even if the regime did not change, 12% said they would return if there was a safe zone, 4.1% would return even with the ongoing war and 37% are undecided while 3.1 said they would not consider returning.
Since the start of the Syrian civil war in 2011, Turkey has backed moderate opposition groups against the Assad regime and opened its doors to those who had to flee the country for their lives. Turkey hosts more Syrian migrants than any other country in the world. The country is also leading humanitarian aid efforts for Syrians in Turkey and opposition-held areas of northern Syria.
Turkey has made significant investments in its social cohesion policies to enable Syrians to integrate smoothly into Turkish society.
So far, Ankara has spent about 40 billion dollars (274 billion TL) for Syrians in Turkey, while the European Union has provided only about 3 billion euros (3.34 billion dollars). ) of the promised 6 billion – a gap that Turkey has long demanded to be filled.
The minister also added that the number of voluntary returns to safe areas has risen to 480,000.
Meanwhile, Turkey's counter-terrorism operations across the border in northern Syria since 2016 have also enabled hundreds of thousands of Syrians in Turkey to resettle in their homeland.
After launching three consecutive operations in northern Syria, Turkey has rolled up its sleeves to rebuild hospitals, schools, mosques and roads destroyed by the PKK's Syrian wing, the YPG. As part of improving the region's social infrastructure, several NGOs donated food and clothing to the population, while roads and buildings were rebuilt.
"We are trying to prevent further migration, including from Afghanistan, Syria," Soylu said, noting that Turkey previously granted temporary protection to those coming from Damascus as well as Syrians fleeing the Syrian Arab Republic. war zones, but this regulation will no longer be effective. .
However, the number of those wishing to enter Turkey from Damascus has increased, the minister said, stressing that their justification was not to flee civil war but rather economic problems.
"Since 2011, Turkey has been a very determined country because in every corner of the world, from Bangladesh to Syria, a security problem affects Turkey. The reason for these security problems is not these countries but the weapons, the smuggling activities that come from outside.
Lavrion camp housing the PKK
Soylu further spoke about terrorist activities and terrorist crossings inside and outside Greece and in particular the Lavrion camp.
"We informed the Greek authorities name by name of the number of activities and members of the PKK," he said, explaining that the Lavrion camp serves as a base for terrorists and a crossing point to the north of the country. 'Iraq. "If this camp did not exist, there would have been less participation in the PKK.
Greece has long been accused of being the favorite haunt of terrorists, the Revolutionary People's Liberation Front (DHKP-C) and the PKK. Those fleeing Turkey took refuge in refugee camps in Lavrion near Athens under the guise of asylum seekers, especially in the 1980s. Despite Lavrion being closed in 2013 under pressure from Turkey, Greece continues to be the primary destination for DHKP-C terrorists.
Athens has also rejected Ankara's extradition requests for terrorists from groups advocating armed insurgency against the state and those involved in armed attacks on Turkish security forces and political parties, in addition to other targets. .