12 amazing campsites in Lebanon where you can sleep in nature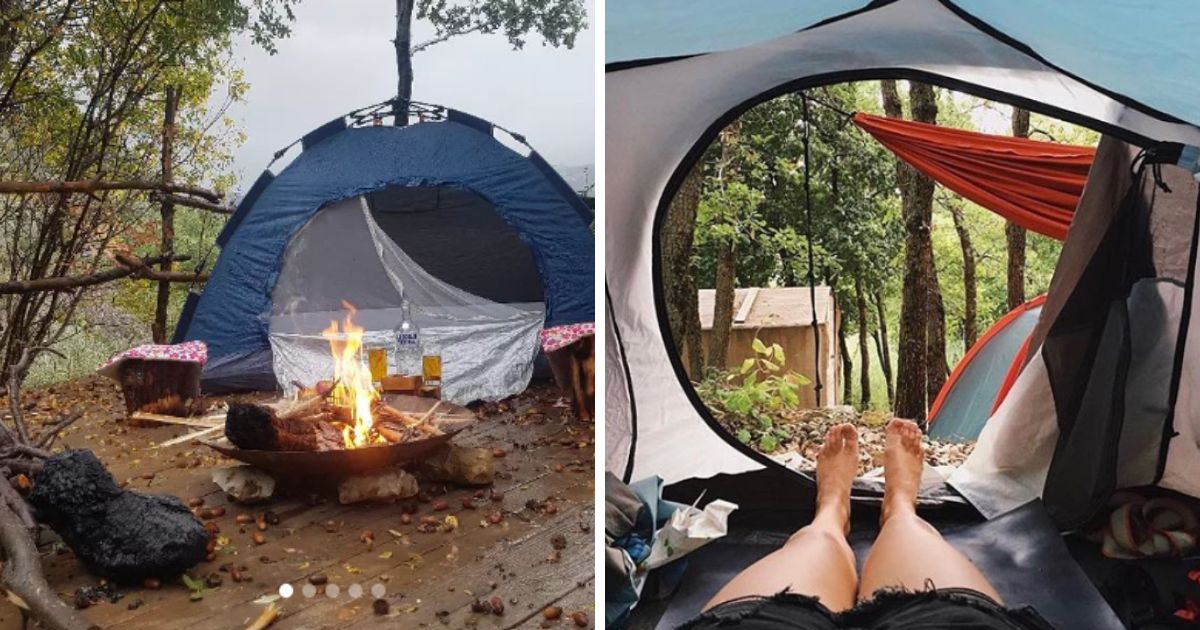 Lebanon's endless supply of natural wonders and beauties is truly breathtaking. Sometimes we get so attached to one of these places that we don't want to leave, and what better solution than to spend the night there?
Moreover, discovering these natural beauties at night is a completely different experience. You will see another side of the locations. You will see the stars and the moon, and the general mood of the night in nature.
Here are 12 campsites in Lebanon to live such an experience:
The Cliff Camp in Jabal Moussa
From the top of the Jabal Moussa reserve, spend the night camping with friends or family. You can dive into the swimming pool with a breathtaking view of Jbeil and Jounieh.
Drinks are also served at Cliff Camp, where you can gather around the bar and meet new people staying at the camp.
For more information, contact 70 281 118
Cedars Ground Campsite in Ain Zhalta
This is where you will experience the real outdoors. Spending the night in a tent, you will hear the unique sounds of nature and smell its different aromas.
Yoga classes overlooking a beautiful view are also a plus. And in the middle of the night you can observe the stars using their own telescopes.
For more information, please contact 03 938187
Swing camp in Zaraoun Metn
Swings is a unique experience in Lebanon. All outdoor pleasures are concentrated in this place. In addition to spending the night in a tent, you can enjoy archery, tree climbing, 360 swings, rodeo, cycling, slingshots. and more.
There are also restaurants with a variety of foods.
For more information, contact 03796648
Campsite Koura
This hidden gem in Koura Governorate is ideal for a chilly night. In addition to sleeping in a tent, you can enjoy a nice swim in their pool overlooking the sea. You can make campfires, lie on hammocks and sunbathe.
For more information, contact 03999209.
Aïcha's camp in Miziara
Aisha Camp is a great place in Miziara, North Lebanon. After spending a cold night drinking, eating and singing with friends or family, you can spend the night in the available tents. When the party is over, you can quietly gaze at the stars, enjoying the grandeur of this world.
For more information, contact 81005007.
The hiding place in Hammana
Nestled in a forest in Hammana is the Hideout, where you can take a breath of fresh air away from the business of the city. Besides the tents, they have hammocks, wooden sofas and barbecues so you can enjoy your stay.
For more information, please contact 71 004 788.
Pine straw in Douma
At Pine Straw in Douma, the atmosphere is very cool. Gather around the fire pit with your friends, meet new people, and enjoy the moon and stars above you. Spend the night in colorful tents and wake up to the unique soothing scent of nature.
Pine Straw offers drinks, food, and the occasional guest singer.
For more information, contact 76544318.
Campsite Bel Tabi3a in Bzebdine
Spend the night in this beautiful place, where you can have lunch/dinner at the restaurant, go hiking with friends, have barbecues and s'mores…
Oaktown to Lehfed
Lehfed is a very popular campsite in Lebanon due to its beautiful forests and views. Setting up a tent under the trees and catching a glimpse of the stars is a great way to spend the night.
In this pet-friendly place you can picnic, have a bonfire and have a drink.
For more information, contact 71 616 805.
Chahtoul Camping
Overlooking a mesmerizing view of Kesserwan, Chahtoul Camp is surrounded by trees, where you can observe different kinds of birds, flowers and plants.
For more information, contact 70 30 20 40
Camp Falougha
You can choose to spend the night in a tipi or a tent at the Camp. You can enjoy many outdoor activities at this place as well as celebrate precious moments with your friends and family.
For more information, contact 76 355 677.
Former McDonald Ehmej Farm
This campsite is the quietest of all the above. You really feel isolated from the affairs of the world while enjoying a night under the stars.
For more information, contact 76 788 844.
For more camping spots, check out these 11 amazing places to camp in Lebanon this summer.
Related: Discover the best stargazing spots in Lebanon.